BENEFITS EXTENDING WAY BEYOND THE GARAGE/MAINTENANCE BAY
SM2 Maintain is a complete maintenance management system for fleets. Parts & labor, tasks, vehicle recalls, maintenance plans, work orders... manage it all with SM2 Maintain.
Error-Free Engine Data
Still relying on manually entered engine data for your maintenance? Say goodbye to all the errors and missing info. SM2's Vehicle Data Units (VDU) automatically capture vehicle data, without the need to pay a monthly fee per vehicle!
The VDU connects directly to the vehicle's diagnostics port to capture the data to fuel SM2's maintenance plans and trigger maintenance recalls.
Preventive Maintenance is all about having the correct information when it is needed. Without accurate and timely information, maintenance is neglected, and sooner or later costly problems such as break downs,
missed PM services, increased liability & risks, and lack of accountability will chip
away at profits and substantially reduce the corporate bottom line.
VDUs make your life easier by automatically capturing:
Mileage
Engine hours
Short idle time
Long idle time
Fault codes ("check engine")
And more!
Spend Your Time On What Matters
As a fleet operator or someone in charge of maintenance, there is a multitude of more productive (and enjoyable!) tasks to which you can dedicate your precious time than updating and maintaining software, the corresponding database, and the PCs that are used as work stations.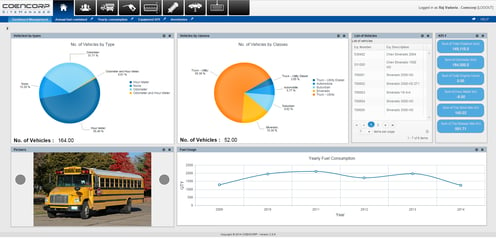 With SM2 Maintain, all you need to worry about is having an internet connection. Coencorp handles the rest.
Your SM2 license fee includes:
Access to the software from anywhere with access to the internet
Software updates
Unlimited calls to tech support, with 24/7 support as an option
We want you to use SM2 Maintain for its main purpose: managing maintenance plans, jobs, recalls, work orders, inventory, and vehicle related costs. Leave the tedious technical part to us!
Work Orders, Easy As Pie
In SM2 Maintain, you are always one or two click away from any screen to create a new work order, or continue an existing one.
Account for Every Maintenance Dollar Spent
SM2 Maintain allows you to keep track of all maintenance related costs by keeping a profile of each part and labor type, so that all jobs completed on a vehicle has a total cost associated, which then becomes part of the unit's history.
Each profile includes:
Costs/prices
Assigned group/department/cost center
Inventory tracking: quantities, location/shelf, re-order level, etc.
Warranty tracking
Useful life
And more!
Complete the Picture
SM2 Maintain is part of the SM2 platform, the only fleet management tool to truly integrate the management of maintenance, fuel, real-time asset tracking in the field, and access control.